We STILL hold these truths to be self-evident . . .
Economics, government, and history curriculum for high schools, colleges, homeschools, and other inquisitive minds.
Curriculum Store
Boundary Stone
has been equipping
Christians for
over 18 years
Summary
The teacher's guide and the online course option, both new with the fourth edition of Basic Economics, transform the textbook into a comprehensive course, deeply based on principles, that should be manageable for homeschooling parents and very interesting for students.
Basic Economics is a must read!
So much of what is taught today as economics is 180 degrees opposite of the truth. It's all about how you think and this book will make sure you get it right.
5.0 out of 5 stars (based on 20 reviews)
Post Your Review of our Curriculum:
Your review will not post immediately, but should show up in 24-48 hours.
Every American Should Read It
Paul Cleveland is a brilliant professor, but in this book he explains the big idea behind so much of what affects our culture and society today in terms that those of us with simpler minds can clearly grasp. I really enjoyed reading this and appreciate the clear and straightforward presentation of truth. I strongly recommend that every serious American should read it.
Great Read!
Comments from email:
These comments were recently sent to us and we wanted to pass them on:
We presently use Dr. Cleveland's Understanding the Modern Culture Wars as the primary text for our World History I-IV classes in conjunction with great books from each of the time periods. We have been quite pleased with it on many levels: it covers the important periods/issues/ideas and such, and does so from a biblical worldview perspective. There is no other text that does this to the best of my knowledge.
I had for years envisioned writing a history text, but never had the time for such an undertaking. Dr. Cleveland's book is very much the book I had in mind, though I think he has done it with more success than I could have managed.
Boundary Stone Latest Articles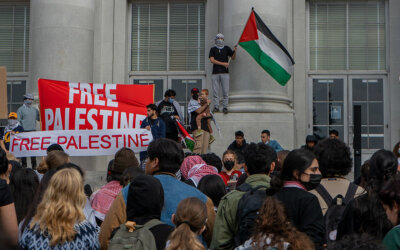 Today's student activism is predictable when you consider they have been taught to interpret history and judge current events from this perspective.
read more