We STILL hold these truths to be self-evident . . .
Economics, government, and history curriculum for high schools, colleges, homeschools, and other inquisitive minds.
Curriculum Store
Boundary Stone
has been equipping
Christians for
over 18 years
Summary
The teacher's guide and the online course option, both new with the fourth edition of Basic Economics, transform the textbook into a comprehensive course, deeply based on principles, that should be manageable for homeschooling parents and very interesting for students.
Basic Economics is a must read!
So much of what is taught today as economics is 180 degrees opposite of the truth. It's all about how you think and this book will make sure you get it right.
5.0 out of 5 stars (based on 20 reviews)
Post Your Review of our Curriculum:
Your review will not post immediately, but should show up in 24-48 hours.
Even better than we hoped for
I am a middle school teacher who also homeschooled our son for his senior year. I looked at several government and economics curriculum selections, but we chose Boundary Stone for several reasons. First, he is a visual learner and wanted something online. This turned out to be a great choice, because he especially appreciated the videos that are a part of both courses. Second, he said that the course was thorough, yet easy to navigate. Third, from a teacher/parent perspective, I felt utterly confident that the instruction would line up with our values and provide a solid foundation of government and economics for him to grow with. I was not disappointed! In fact, I now want to go back through the course myself and relearn government and economics from a solid Biblical worldview. Lastly, considering our current national & political challenges, I am more glad than ever that we chose this course for our son so he can be a properly informed citizen.
essential reading for this generation
About The Great Utopian Delusion: A decade ago, I would have described this book to my students as in interesting, accessible primer on the dangers of socialism (and other statist political and economic philosophies), particularly as seen through the lens of biblical worldview thinking, and I think many of them would have understood what I meant. Times have changed. When I used this book in my course two years ago, half of my students had no knowledge or historical memory of socialism and the dangers thereof. They didn't even know what the word meant. This book upset them in that they recognized that they had been duped by government education and an intellectually bankrupt culture. Read it, and while you're at it send a copy to your elected officials.
In response to January 2021
In January 2021, with so much in the USA to be concerned about, I contemplated what I could do to make a difference. Much of what I had been doing was sharing information and "take action" letters and petitions. But in January, I wanted to do more. Remembering history books from a Constitutional class that I had taken many years ago, I went to my bookshelves to seek them out. They were "The Basic History of the United States," by Clarence Carson. After reading them I realized what I could do: Share them with young adults with (and without) children.
Searching for the history books online was discouraging at first until one site suggested I might find them sold at Boundary Stone. Because I helped my daughter school her 4 children and saw the amazing results and benefits of their home education, I sought out those who wanted to do the same. So far I have donated Paul Cleveland and Clarence Carson's books to 9 homeschooling families (most of them had never schooled their children before). I believe in the tremendous power of education, especially when that education is founded in truth. We need the real history or we will repeat the history of tyrannical governments.
Cleveland & Carson offer truthful history. Not only have I donated to young adults with children, but I have also given many books to single and middle-aged adults.
Boundary Stone Latest Articles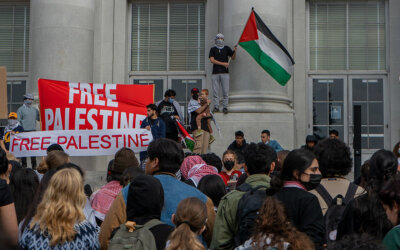 Today's student activism is predictable when you consider they have been taught to interpret history and judge current events from this perspective.
read more