We STILL hold these truths to be self-evident . . .
Economics, government, and history curriculum for high schools, colleges, homeschools, and other inquisitive minds.
Curriculum Store
Boundary Stone
has been equipping
Christians for
over 18 years
Summary
The teacher's guide and the online course option, both new with the fourth edition of Basic Economics, transform the textbook into a comprehensive course, deeply based on principles, that should be manageable for homeschooling parents and very interesting for students.
Basic Economics is a must read!
So much of what is taught today as economics is 180 degrees opposite of the truth. It's all about how you think and this book will make sure you get it right.
5.0 out of 5 stars (based on 20 reviews)
Post Your Review of our Curriculum:
Your review will not post immediately, but should show up in 24-48 hours.
The most important class you will take.
My teens are 14 and 16 and I wanted them to know what the meaning of "life, liberty, and the pursuit of happiness" actually meant. I chose to take the class with them since I knew I truly knew nothing about US Government, even though I have been voting for 34 years. We are not even finished with the course, yet both my girls agree that it is the best class they have taken in years. The way the class is formatted with the outstanding text by Carlson, Bastiat's The Law, and the incredible use of current video's to tie everything together is superb. The study guide is very thorough and prepares you for the exams, and to understand the concepts on a deeper level. I will most definitely be taking this class again with my son when he is older. The class is for ANYONE, homeschool student, student for life, lifelong voter who does not understand what they are voting for, anyone who feels they do not have an understanding of the US Constitution, and anyone who is wanting the knowledge necessary to continue to fight for what our founding fathers worked so tirelessly to create.
Great Videos and Projects
I really enjoyed the videos that are linked with the lessons. The reading is pretty heavy but if you stay on top of it and do the review questions while you read it's not too hard. I do really like the perspective from which the textbooks are written. The budget project for the economics course was really eye opening.
This course should be required for all high school students!
We were originally introduced to Basic American Government as a product review, but by the end of the first lesson, I knew this was a program I was adding in for my two high school students. Methodical and using an easy-to-understand format, this course dives deep into the origins of our country and its government and shows how quickly we fell away – not to mention how far we have continued to spiral.
With a mix of reading and video, plus review elements that are both handwritten and computerized, American Government helps to teach to multiple learning styles and can easily be completed independently by high school students.
However, I do recommend going through this course with your children – not just for how much you can learn, but so you can have amazing conversations with them about the material and the current state of affairs.
After completing this American Government course with my two oldest students, I know that we will be back when the other two are ready because we have found the gold standard for American Government in Boundary Stone's course.
Boundary Stone Latest Articles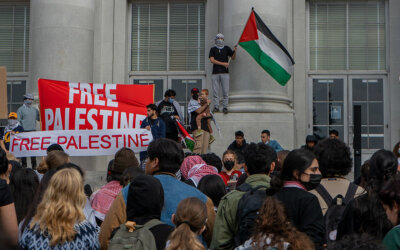 Today's student activism is predictable when you consider they have been taught to interpret history and judge current events from this perspective.
read more