The Sections and the Civil War 1826-1877 (Volume 3)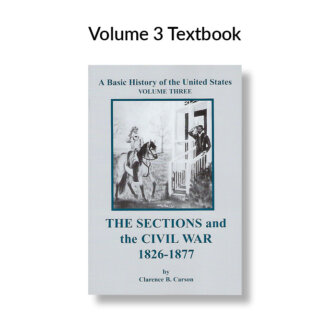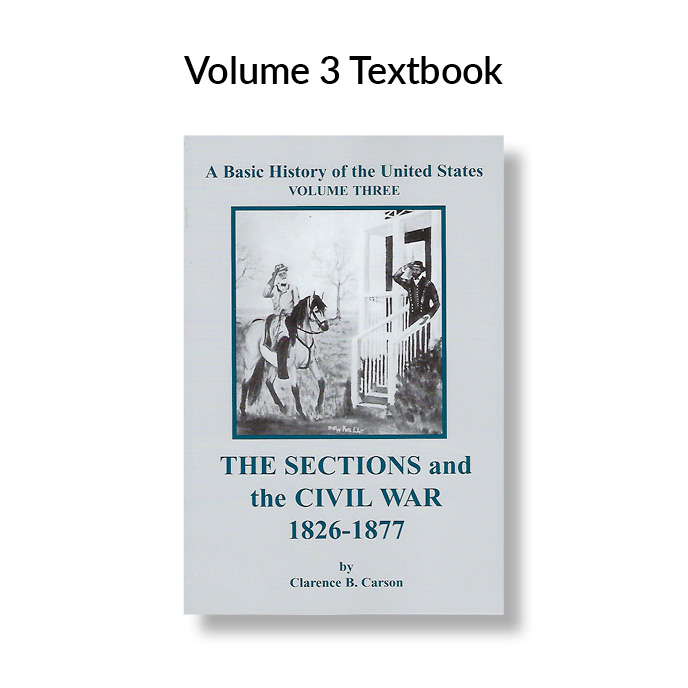 A Basic History of the United States—Volume 3
This third volume covers the rise of Sectionalism and the Jacksonians through the Civil War and Reconstruction. It covers American views of work, the effects of Romanticism and Westward Expansion.
Click on image below to see a PDF of the Table of Contents and sample pages of the text.
Additional information
Weight
15 oz
Dimensions
6 × 9 × 1 in
ISBN

1-931789-11-8
978-1-931789-11-0

Binding

Paperback
5.0 out of 5 stars (based on 1 review)
In response to January 2021
In January 2021, with so much in the USA to be concerned about, I contemplated what I could do to make a difference. Much of what I had been doing was sharing information and "take action" letters and petitions. But in January, I wanted to do more. Remembering history books from a Constitutional class that I had taken many years ago, I went to my bookshelves to seek them out. They were "The Basic History of the United States," by Clarence Carson. After reading them I realized what I could do: Share them with young adults with (and without) children.
Searching for the history books online was discouraging at first until one site suggested I might find them sold at Boundary Stone. Because I helped my daughter school her 4 children and saw the amazing results and benefits of their home education, I sought out those who wanted to do the same. So far I have donated Paul Cleveland and Clarence Carson's books to 9 homeschooling families (most of them had never schooled their children before). I believe in the tremendous power of education, especially when that education is founded in truth. We need the real history or we will repeat the history of tyrannical governments.
Cleveland & Carson offer truthful history. Not only have I donated to young adults with children, but I have also given many books to single and middle-aged adults.