Budget Project Mini-Course (Older version)
Sale!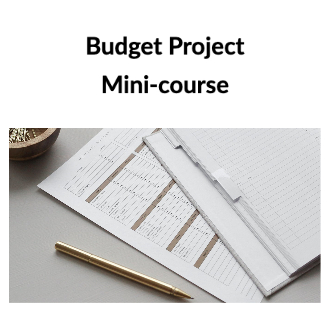 Mini-course is free! Simply complete cart checkout for $0.00.
This was our original budget project and it was updated with a new format that includes lesson videos in 2020.
Designed for high school students, or anyone who may never have considered the expenses of living on their own.
Can be completed by spending an average of about an hour for each of the thirteen modules. However, some modules will require more time and some less for the research.
Spreadsheet is offered in several formats to accommodate using Excel, Numbers, Google Sheets, or a paper copy.
What you will learn:
Categories of expenses for living on your own that you may never have considered
Opportunities to research realistic costs in different categories
The impact of income tax withholding on your take home pay
The impact of paying off debt for college or other expenses
Necessity of making choices as to where you spend your income
The impact of different choices and priorities for the amount you will have left for "discretionary" options
How not planning ahead could leave you with too much month at the end of your money
Additional information
| | |
| --- | --- |
| Product Type | Online Course |
0.0 out of 5 stars (based on 0 reviews)
There are no reviews yet. Be the first one to write one.