Basic Economics, A Natural Law Approach to Economics, 4th ed. (2018)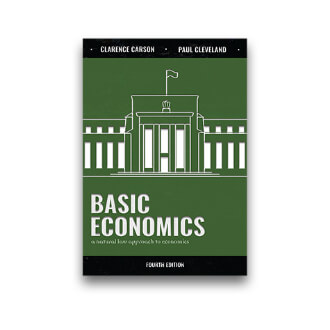 Updated in 2018. Completely new format. Easier to use.
Also check out our PDF Teacher's Guide.
Begin at the beginning with the Dominion Mandate
Acknowledge an intentionally created orderly universe that is guided by discoverable principles
Learn to make the case for free markets and limited government
Understand socialism by learning its foundations and history
Study economics from a natural law perspective
Format Features
8.5 x 11 format with some chapters shortened
100 fewer, more readable pages than 3rd ed.
Key terms defined in margins
Important principles summarized in pull-out boxes
Improved Review Questions
Bios of key individuals included where they are mentioned in the text
At least two Getting the Point questions added per chapter, which make for great discussion starters
Two page Study Guide at the end of each chapter that includes:

a half page Chapter Summary
Points of Emphasis list
Identification Terms list
Review Questions
Activities
Suggested books and Articles For Further Study
This is unapologetically a different approach than the one taken by most other economics texts. The goal is to understand the universal principles that govern economic activity. These principles are the foundation for evaluating public policy proposals being put forward by politicians and the media. This course is not going to teach the math behind economic modeling that is typically covered in Common Core and the AP micro- and macroeconomics tests. Instead it will prepare students to see the limitations of it.
See a 20-page excerpt below. Click esc to exit viewer and return here.
Chapter 1 Why Basic Economics

Additional information
| | |
| --- | --- |
| Weight | 52 oz |
| Dimensions | 12 × 9 × 0.75 in |
| Binding | Hardback |
| ISBN | 978-0-9727401-4-2 |