Basic Economics, A Natural Law Approach to Economics, 4th ed. (2018)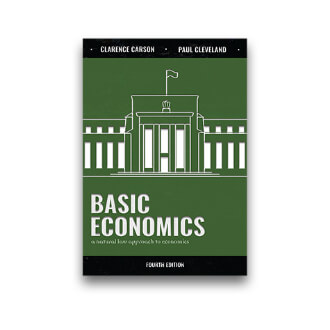 Updated in 2018. Completely new format. Easier to use.
Also check out our PDF Teacher's Guide.
Begin at the beginning with the Dominion Mandate
Acknowledge an intentionally created orderly universe that is guided by discoverable principles
Learn to make the case for free markets and limited government
Understand socialism by learning its foundations and history
Study economics from a natural law perspective
Format Features
8.5 x 11 format with some chapters shortened
100 fewer, more readable pages than 3rd ed.
Key terms defined in margins
Important principles summarized in pull-out boxes
Improved Review Questions
Bios of key individuals included where they are mentioned in the text
At least two Getting the Point questions added per chapter, which make for great discussion starters
Two page Study Guide at the end of each chapter that includes:

a half page Chapter Summary
Points of Emphasis list
Identification Terms list
Review Questions
Activities
Suggested books and Articles For Further Study
This is unapologetically a different approach than the one taken by most other economics texts. The goal is to understand the universal principles that govern economic activity. These principles are the foundation for evaluating public policy proposals being put forward by politicians and the media. This course is not going to teach the math behind economic modeling that is typically covered in Common Core and the AP micro- and macroeconomics tests. Instead it will prepare students to see the limitations of it.
See a 20-page excerpt below. Click esc to exit viewer and return here.
Additional information
| | |
| --- | --- |
| Weight | 52 oz |
| Dimensions | 12 × 9 × 0.75 in |
| Binding | Hardback |
| ISBN | 978-0-9727401-4-2 |
5 out of 5 stars (based on 3 reviews)
Excellent Resources
As our children approached the high school age, we were wondering what resources to use for the subjects of Civics and Economics. Upon the recommendation of some close friends, we decided on Basic American Government and Basic Economics. We were not disappointed. Not only did we teach all three of our children using these books, but we opened up the class to the homeschool community in our area. This year we are starting our third time through this course which has been very well received. I appreciate the starting point of the authors which is the truths taught in the Christian Scripture. With that foundation – the foundation of eternal truths – the authors (Clarence Carson & Paul Cleveland) do an excellent job of tying the topics together as a cohesive whole, showing the results of both good and bad ideas. I am very excited to use the 4th edition of Basic Economics for the first time this year. The formatting and layout look amazing. I am guessing that the chapter review will be helpful for the students preparing for the weekly quizzes (and the teacher in preparing the quizzes). I know that was helpful when I taught through Carson's six volume American History course.
Speaking of history, the history class last year was a great success. I wasn't sure how it would go as this was the first time I had taught using those books. The homeschool students absolutely loved the course. The author did a superb job a referencing the Constitution throughout the books, of showing the underlying ideas that affected the course of our nation, and the foundational principles of the United States, which are rooted in the Christian worldview. For years, I have been disappointed in the lack of quality history from a Christian perspective past the Civil War era. When I learned about Carson's history, I jumped on the idea of using that since I had been impressed with the other books I had used. I was not disappointed with this decision. I have since been promoting the history books (along with the other Boundary Stone books) to our homeschool friends.
Lastly, I would like to say that I appreciate the work of the Clevelands in keeping these books published and updated for future generations. As a homeschool dad and supporter of the homeschool community in California, I love these resources. They are a treasure that would be a shame to lose. Keep up the good work!
Basic Economics 4th Edition - A rare find!
I am really looking forward to using your curriculum! I have a friend who will also be purchasing. We homeschool our high school daughters together and have a number of different economic curriculums and books between us, but each seemed to lack something. Your new book appears to accomplish what we hope to cover without having to piece together from multiple sources. Thank you!
A Must Read!
Basic Economics is a must read!
So much of what is taught today as economics is 180 degrees opposite of the truth. It's all about how you think and this book will make sure you get it right.