Complete Homeschool Government and Economics Curriculum
High school curriculum with everything necessary for one credit in government and economics. Boundary Stone curriculum can help you equip your students with principles for interpreting events around them. Our curriculum is built on Christian, natural law foundations that acknowledge a creator God who intentionally designed our universe with discoverable principles.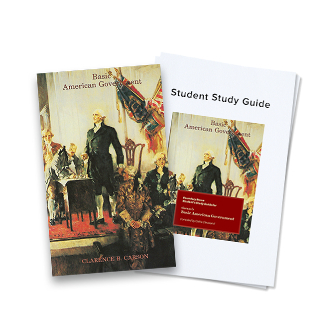 Basic American Government
A constitutionally oriented book that includes a valuable and detailed one chapter description of the nature of our government, followed by a history of its founding principles, tracing them from the ancient Hebrews, Greeks, and Romans, through the formation of our constitution, and beyond through the 19th and 20th centuries.
*  Govt/Econ Combo Bundles available.
Click on Button below
Online Courses Description
Two one-semester self-paced courses with twelve-month access.
Self-paced. Begin any time and work at your pace through 65-75 daily assignments (80-90 if you use the optional project mini-course)
Daily assignments include reading, videos, review exercises, and auto-graded quizzes and tests
All other written assignments graded by parent/teacher using the Teacher's Guide
PDF Teacher's Guide with study guide answers and course planning materials
Most Mondays are set aside to work on optional Project Mini-course

Policy Research Paper in Government
Personal Budget Project in Economics

Email, chat, or phone support
See before buying:
See an excerpt of each book below. Click esc to exit viewer and return here.
In the simplest terms, economics is a study of the thrifty use of scarce resources to satisfy human wants. God created an orderly universe, and there are discoverable principles that govern how systems operate. Economic principles, so far as they are valid, are universal  in their application. That is, they apply to all peoples at all times…
– Chapter 1
Basic Economics, 4th ed.
Over 30 years experience teaching economics
Dr. Paul Cleveland has been an economics and finance professor for over 30 years and is author or co-author of four books.
Cathe Cleveland developed the study guides and teacher's guides while teaching more than 100 10th grade homeschool government and economics students over four years using this curriculum at a co-op in Birmingham, AL.
The Clevelands homeschooled their own children through high school. Their son now has a Master's degree and is a high school teacher at an urban Christian school in Birmingham. Their daughter is pursuing a graduate degree.
Their combined experience with numerous students and many different curriculum packages in many subject areas helps them understand the needs of homeschoolers. Because of this, they completely re-designed the 4th edition of Basic Economics with the homeschool family in mind.
Basic Economics is a must read!
So much of what is taught today as economics is 180 degrees opposite of the truth. It's all about how you think and this book will make sure you get it right.
–Nelson Nash, Originator of the Infinite Banking Concept
Helping You Provide Beacons
Every generation needs fixed beacons to find their way through the storms life will undoubtedly send. We want to help you find ways to pass on changeless truths to the next generation. Too often, Christian approaches to social sciences attempt to use content designed for public schools and add a few proof texts from Scripture to justify what is taught. Instead, we believe the foundation must be the universal principles God designed to govern his created universe. Discovering and mastering these universal principles will provide priceless tools in students arsenals. They will empower them to see through the faulty reasoning used by politicians, pundits, and the media to manipulate political agendas affecting more and more areas of our daily lives.